UPDATE 8/3/2020

Paradise Lawn Service

After several failed attempts to rectify the issues we've been witnessing repeatedly with our landscaping service, the board is beginning the process to rebid the contract.

We will include Paradise in the new bid process and have also requested an immediate meeting with the owners as next steps to address immediate concerns further.

UPDATE 7/31/2020

August maintenance schedule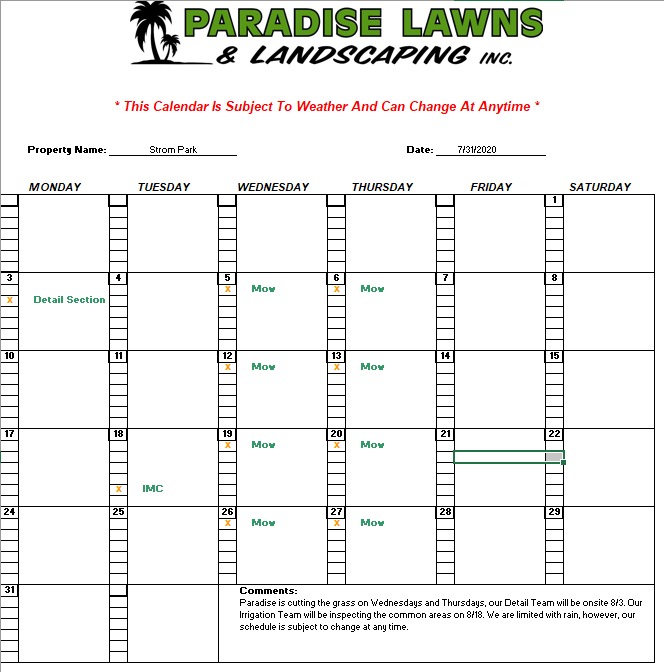 UPDATE 7/5/2020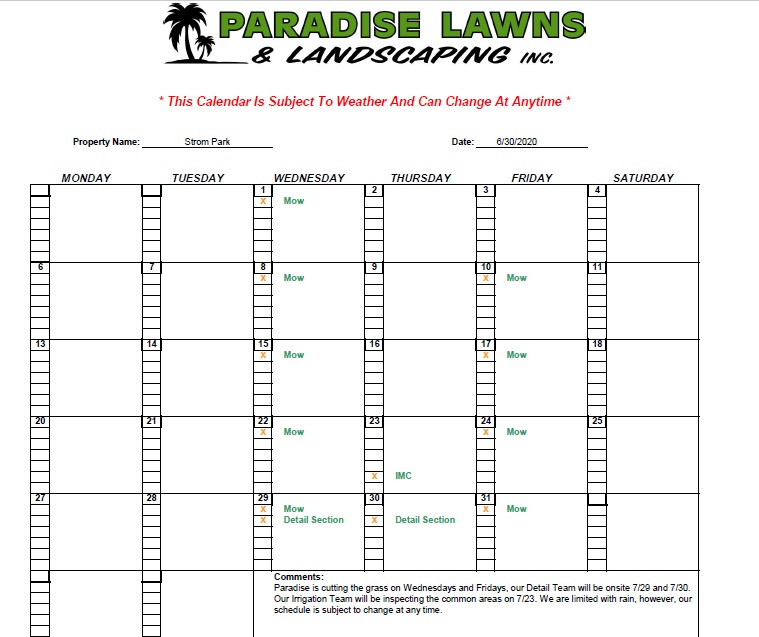 UPDATE 6/30/2020

We failed to reach quorum at last night's annual HOA meeting.  We had 33 homes participating and the minimum number needed is 35.  We were unable to hold a vote for new board members.

However, the Board of Directors appointed 2 new members as Gary Parente and Colleen Flynn-Rooney both resigned from their positions.

We'd like to thank Colleen and Gary for their contributions to the community during their time volunteering for the board.

We also would like to welcome our 2 new board members:

Tony Balzanto (Vice-President)

Aaron Oberste (Secretary and his second time returning to the board)

Tony and Aaron join current board members Jason Golden, Bill Rice, and Jason Marrone 

Congratulations and we are looking forward to your contributions to the community!

UPDATE 6/24/2020

Notice to homeowners located on the east I-95 wall:

As Paradise continues to prune all palm trees in the community, they are now moving to the east I-95 wall to complete the job.

Since they cannot drive a truck safely onto the back slope of the wall, they will need to walk between houses in order to carry the debris to the trucks parked on the street.

Sorry for the brief inconvenience.

Please notify the HOA board members or Darcie Madison if there is any unintended destruction of property.

Thank you

UPDATE 6/5/2020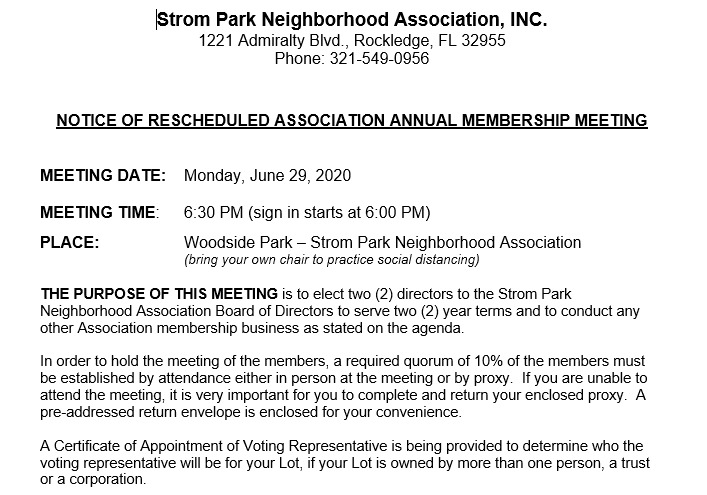 UPDATE 6/4/2020

From Paradise lawn service, please be patient as this weather pattern is causing delays in service:

Good Afternoon,
I wanted to touch base with you regarding the weather we are to expect over the next 7 days as this tropical system is upon us. Due to the rain we have already received and then what we will be receiving, we will inspect your property and determine what, if any portions can be serviced.
That being said, due to this inclement weather over the next week, I would like to inform you that it is possible that our schedules will be off while we try to complete our job of servicing your property. I will continue to update you on any changes in the schedules due to the weather. Please let me know if you have any questions or concerns regarding this issue.

UPDATE 5/26/2020

You should have or will be receiving notification for the mid-year assessment for $310.00 due by July 1, 2020.

Additional late fees will be assessed if payment is not made by the end of July.

Payments can be made by mail or online at www.LelandManagement.com

If you have any questions or concerns, please call 321-418-6997 or email [email protected]

UPDATE #2  5/26/2020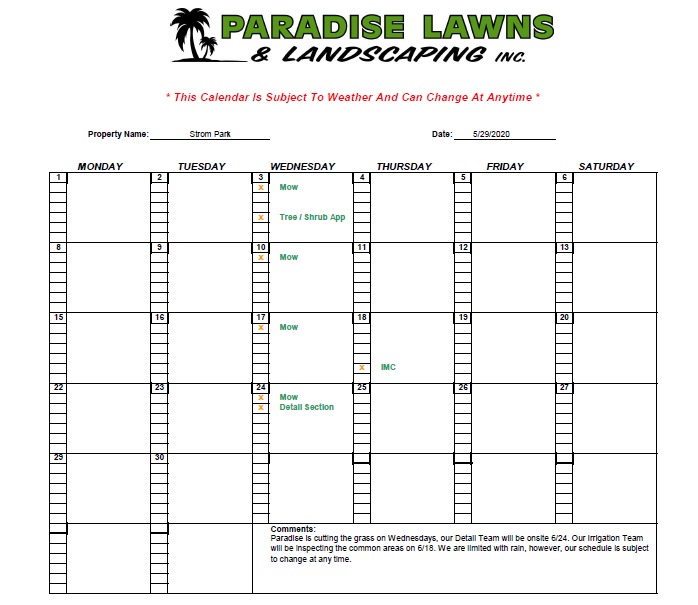 UPDATE 5/6/2020

Beacon Pressure Washing company will be on sight starting Tuesday, May 12th, to pressure wash the I-95 wall.

Weather permitting, we anticipate 2 to 3 days total for the job to wash the entire wall.

For the 42 homeowners that live along the wall, Beacon has requested permission to access the wall via easement through the side yards in order to complete the job.

Should you have any questions, please contact Darcie Madison at 321-549-0956 or by email to [email protected]

Thank you for your understanding and patience during this process.



UPDATE 5/2/2020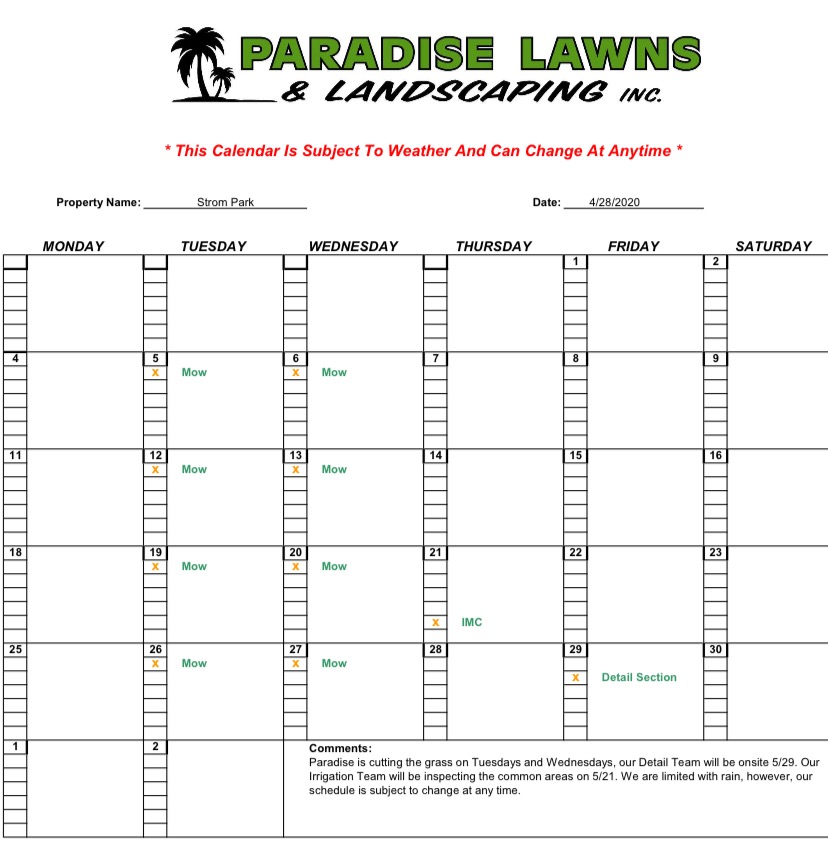 UPDATE 4/8/2020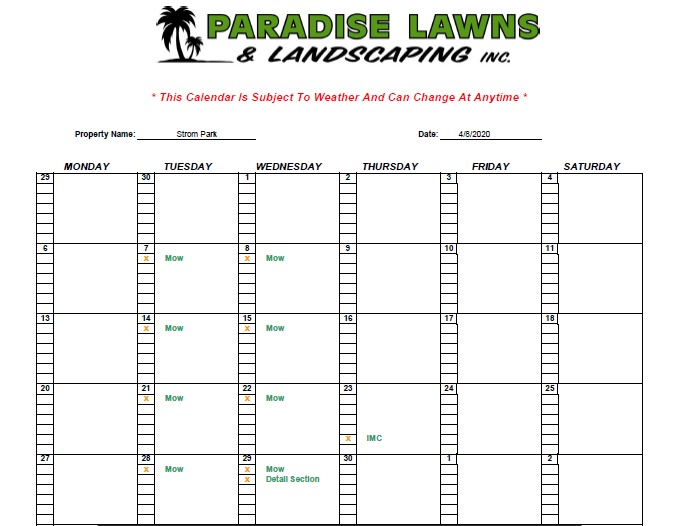 UPDATE 3/27/2020

Please continue to practice social distancing while using the common areas within Strom Park.

It is recommended to bring disinfectant wipes to the park to clean before and after personal use.

The splash pad is temporarily closed and the water has been turned off.  The bases of the monuments are cracked and a work order has been initiated to fix.  Please avoid this area altogether to avoid personal injury and additional damage to the monuments making the repair cost more expensive.

Stay safe, stay healthy, we will get through this period together!


UPDATE 3/16/2020

Strom Park Annual meeting scheduled for March 24th is postponed due to the COVID-19 closures.

A later date to be determined will be communicated appropriately when established


UPDATE 3/4/2020

Friendly reminder

Neighborhood landscape inspection on Wednesday the 11th starting at 10:30am

UPDATE 3/2/2020

Below is a new schedule that Paradise lawns has provided us for expected services for the month.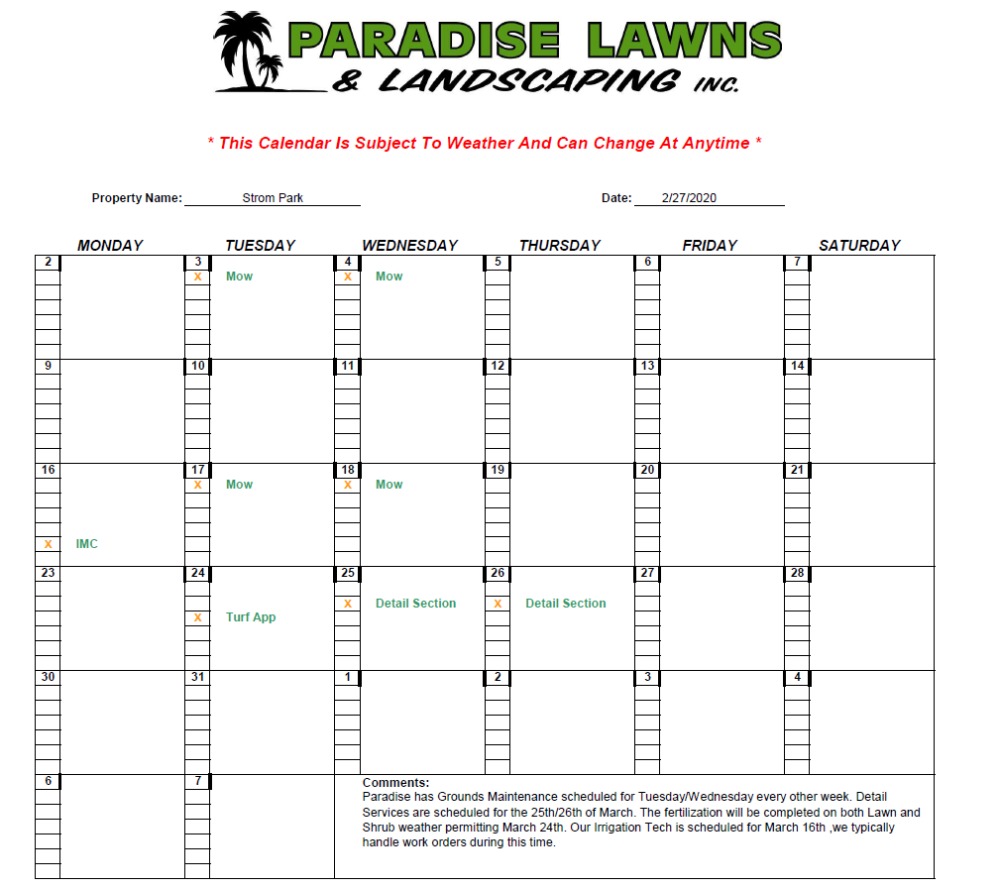 UPDATE  3/1/2020

Strom Park Neighborhood Association Annual Meeting

MEETING DATE: Tuesday, March 24, 2020
MEETING TIME: 6:30 PM (sign in starts at 6:00 PM)
PLACE: Brevard County Government Center – Florida Room
2725 Judge Fran Jamieson Way, Viera FL 32940

THE PURPOSE OF THIS MEETING is to elect two (2) directors to the Strom Park
Neighborhood Association Board of Directors to serve two (2) year terms and to conduct any
other Association membership business as stated on the agenda.

In order to hold the meeting of the members, a required quorum of 10% of the members must
be established either by attendance in person at the meeting or by proxy. If you are unable to
attend the meeting, it is very important for you to complete and return the proxy that was mailed
in the first mailing.

We have only received one Notice of Intent to Be A Candidate by the February 27, 2020
deadline established in the first mailing. That Candidate Information sheet can be viewed below.

Having received only one Intent for the two open seats, there is no
ballot to be included in the mailing. However, nominations will also be taken from the floor the night
of the meeting.

AGENDA

Call to Order
Proof of Meeting Notice
Certification of Membership Quorum
Disposal of Prior Membership Meeting Minutes
Introduction of Candidates
Election Proceedings
Election Results
Adjournment

A Board of Directors meeting will be held immediately following the Annual Membership
meeting or within 10 days of this meeting. The main purpose of the meeting will be to
establish officer positions on the Board and other Board business as needed.


NOMINATION FORM 
I, Anthony Balzanto, hereby place my name in nomination as a candidate for the Board of Directors of the Strom Park Neighborhood Association, Inc. for the Annual Election to take place in 2020.


PERSONAL BACKGROUND: I am originally from the Chicago suburbs. I came to Viera in February of 2016 with my wife Michelle and daughter, Alyssa, who currently attends Flagler College in St. Augustine. What brought me to Viera was a change of careers in late 2015. Prior to landing in Viera, I was a police detective in a large Chicago suburb. I retired from the PD in late 2015 for an opportunity to relocate to Florida (I'm not fond of being cold) and shift into a private sector career in the digital forensic/cybersecurity industry. I currently manage a team of digital forensic analysts for a major telecommunications company. 
During my time away from work, I enjoy photography, exploring Florida on my Harley Davidson and lanai cooking on the Big Green Egg. Michelle and I also enjoy checking out the local restaurants and events and traveling to new places. 
PRIOR ASSOCIATION EXPERIENCE: At a prior residence, I was a board member of our HOA for two terms. I did not seek a third term due to knowing we would be moving the following year. I served as the treasurer and worked closely with the management company in reviewing bids, budgets, expenses and other related items in addition to the varied issues that would come up to the board.

UPDATE 2/20/2020

Strom Park common areas will be pressure cleaned  on Wednesday, 2/26, per the approval at the board meeting on 2/12.

Areas to be cleaned are as follows: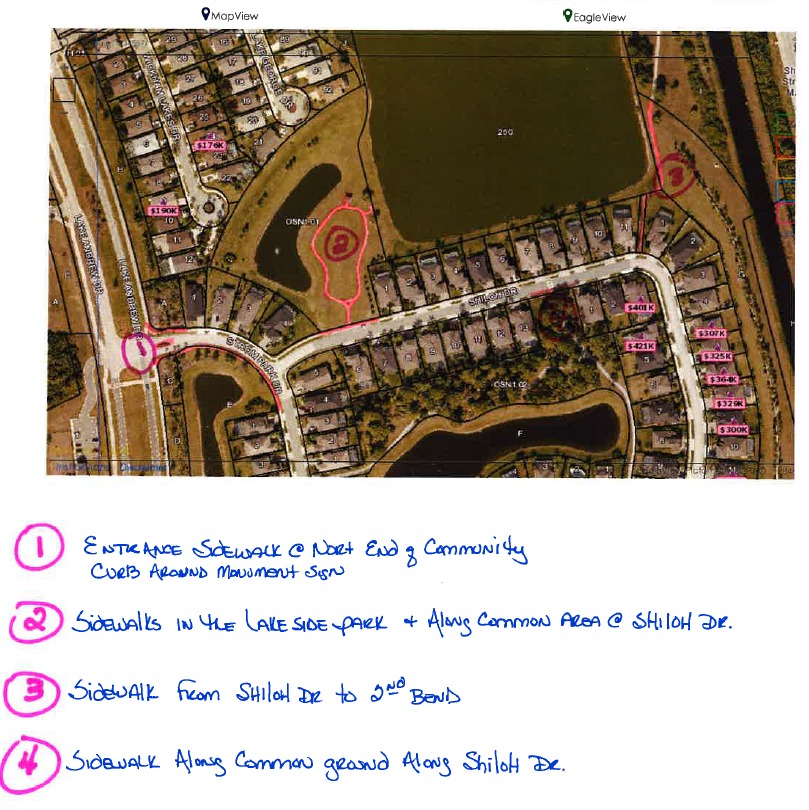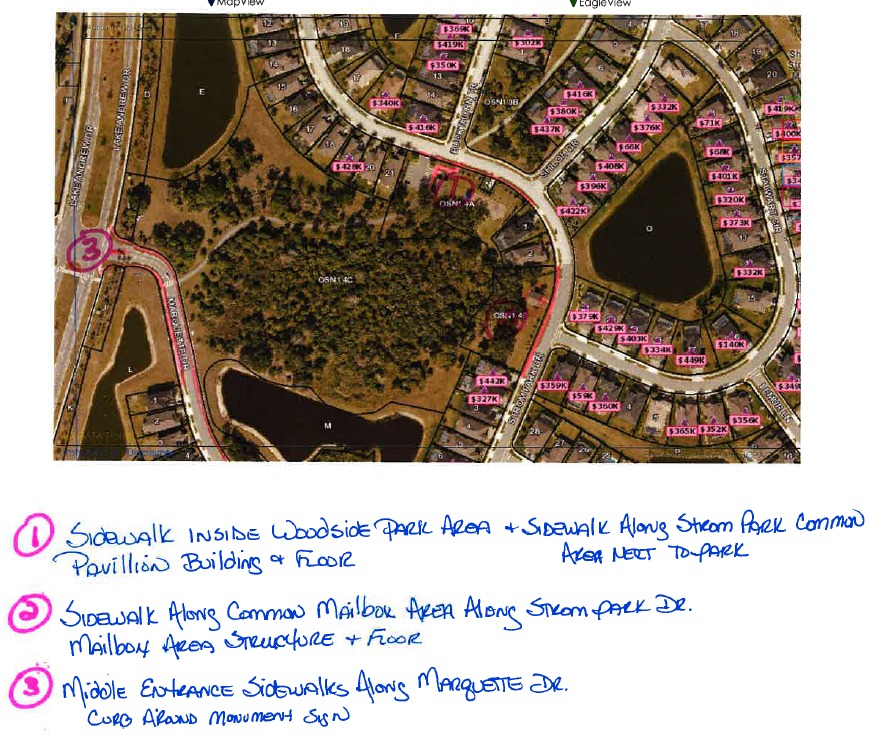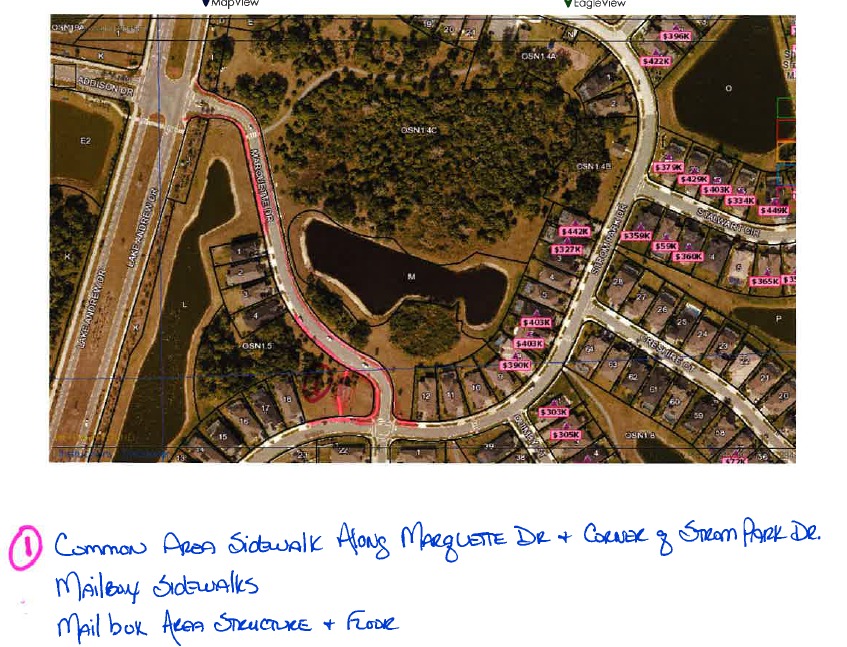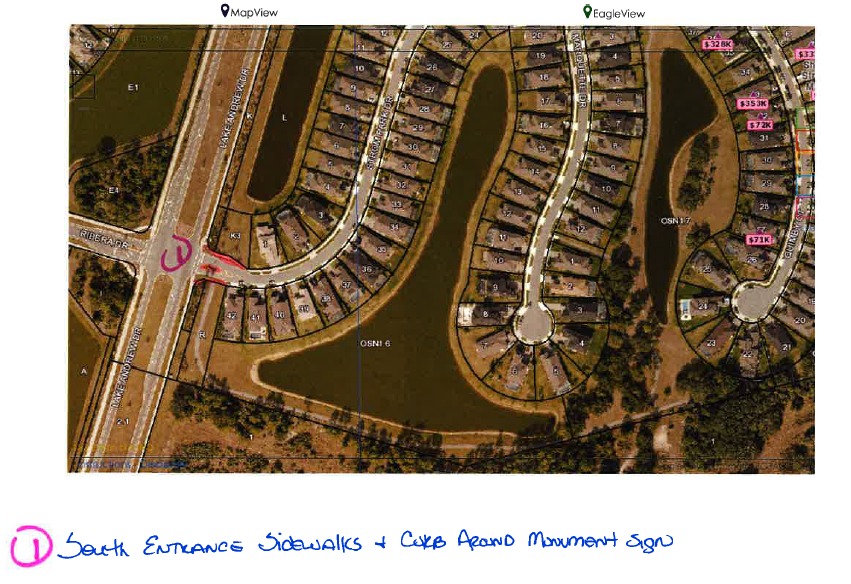 Strom Park HOA meeting will be Wednesday, Feb.12th, at 630pm at the Woodside park pavilion. 


UPDATE 2/5/2020

Nominations for election to the Board of Directors are now being accepted. We will soon be having our annual offsite meeting where election results will be communicated. Dates are still to be determined based on schedules and building space availability. Date and location will be announced as soon as possible in accordance to our bylaws.

The HOA will accept as many nominations for election to the Board of Directors as it shall in its discretion determine, but in no event less than the number of positions to be filled.
Nominations can be sent directly to Leland Management.

UPDATE 12/18/19

Dear Strom Park Residents:
I am sure you are just as excited as I am to finally see the opening of the new Addison Village Club!  We are getting close to opening day and here are some important dates regarding the Club opening activities:
Open House on Friday, December 20th and Saturday, December 21st.  This Open House is for Addison Village residents and the general public to tour the Club, ask questions and meet the new staff.  Staff will be prepared to talk about the Club's programs and events and you will also be able to provide valuable input on the development of additional lifestyle clubs and activities.
Grand Opening Day on Thursday, January 2nd.  Starting on January 2nd, you will be able to get registered, pay your fees, get your access cards and ID's and start using the facility.
I have heard that there is a lot of misinformation floating around so I hope staff will be able to clear up any false rumors once you are able to visit the club and speak to staff at the Open House or after the opening date.  For the purposes of this communication, however, let me reassure you that any owner within Strom Park will be eligible to join the Club.  The annual dues for Strom Park members is $600.00 plus tax ($642.00).  This amount is not prorated from the date you join, so, please come in early to register.
Follow us on Facebook to stay up-to-date on the latest information regarding the Club.  Our website (www.addisonvillageclub.com) and phone number are not active just yet, so if you have any questions before opening/registration, please feel free to attend either of the Open House days or, you can reach out to me directly.
Sincerely,
Eva M. Rey, M.P.A.
Director of Community Management, Amenities, and Communications
The Viera Company
7380 Murrell Road, Suite 201 | Viera, FL 32940
Phone: 321.242.1200, Ext. 4533 | Cell: 321.514.5007 | E-mail: [email protected]







UPDATE 10/26/19
HOA Board Meeting will be Tuesday, 10/29, at 6pm at Woodside Park Pavilion.


UPDATE 10/16/19

Strom Park Semi-Annual garage sale this Saturday, Oct. 19th, from 8am-12pm



UPDATE 10/8/19

HOA Board meeting postponed for this evening and will be rescheduled for a later date in October.



UPDATE 9/21/19

Viera will be doing a photo shoot on the Strom Park Trail behind Marquette.  No homes will be in the photos, just the trail toward the Duda land.  Tuesday the 24th of September.  Crews will be arriving at 6:30, Talent at 7:00 and they will be out of the area completely by 9:30.  The Marketing person mentioned that she is going to visit the neighbors on the end of Marquette there over the weekend to speak with them and let them know what is going on in advance.

UPDATE 8/30/19

Owners can call Leland's after hours number of 866-263-3987 for Association related Emergencies during or after the hurricane.

Stay safe everyone!

UPDATE 7/31/19

Eva Ray at Viera confirmed that the PCT work along Marquette Drive near the mailboxes was approved via Viera Stewardship District (VSD).  The affected areas are posted under the Board updates section of the Homeowners News link.


UPDATE 6/11/19

As we are underway in the 2019 hurricane season, here are some helpful hints regarding disaster preparedness for pet owners:

https://topdogvitamins.com/pet-disaster-preparedness-guide/



UPDATE 6/3/19

Semi-annual assessments were mailed out to all homeowners last week.  The 2019 second installment of $310.00 is due July 1st.  Payments can be made with check and enclosed envelope of the letter or online at www.lelandmanagement.com 



UPDATE 5/3/19

Note from your Strom Park HOA President regarding Paradise lawn/landscaping service:


Strom Park Homeowners,
            I wanted to let you all know that I met with the Vice President of Paradise Landscaping this morning. Bobby and I had a lengthy and frank conversation about the service level our community is receiving.
            We discussed a few immediate issues, including the condition of the area around the I-95 retaining wall on the west edge of the community, and the patches of common turf areas around the community that were cut very short.           
            Paradise assured me that the irrigation is functioning properly near the I-95 wall. I shared with Bobby, that our homeowners contest those irrigation reports. It seems as though the remedy to improve the appliance of this particular area is to drastically increase the amount of time the water runs in this zone. Quite obviously, and increase in watering time will increase the communities water bill. The board will take an action to review budget and balance potential costs impacts with the communities desire for an improved appearance.
            As for the short cut grass, Bobby committee to personally observing the areas pointed out to him and to provide an explanation. He assured me that they are prepared to repair, to our reasonable satisfaction, these areas in the (likely) event these patches brown and die.
            Along with critical hot button issues we discussed how to improve communication between the Strom Park HOA, Leland Management and Paradise. I was made aware of several helpful pieces of communication that exist but are not flowed out to the community. They include:           
Weekly work order progress reports provided by Paradise to Leland that comes out each Monday,
Weekly response from Leland back to Paradise that is issued on Wednesdays.
Monthly action plan calendar from Paradise outlining when they expect to complete contracted projects (understanding that this monthly plan can/will be impacted by weather)
I've asked that all HOA board members email addresses be added to each of those distribution lists. To date this HOA board has not been provided these reports. I believe it is beneficial that these reports be posted for homeowner review.
            I accepted Paradise offer for the board to participate with monthly ride alongs through the community to effectively audit the work done against the work planned. This is a feature currently in the service contract, I understand that our community has taken these ride alongs periodically, but not consistently.
I asked for Paradise' commitment to attend HOA meetings as requested and to speak with interested homeowners, or homeowner groups, to field and address any recurring concerns that come up. Bobby agreed to make the Paradise team available as we request (assuming of course they are provided reasonable time to schedule).
            As a point of interest, Bobby and I reviewed the open work orders together. There are 3 open work orders that are past due. One of which being the recurring irrigation concern along the I-95 wall. Paradise will provide a firm commit date early next week for all open work orders.
            Personally I was surprised to see only 3 work orders open given the level of concern shared by homeowners via social media platforms. Please point out areas of concern formally to Leland management and/or the HOA board via email, or through the Strom Park website. These established communication processes are the best way to insure all concerns are captured and managed.
The Board is committed to holding all of our suppliers/vendors accountable to the actions they are under contract for.
Thanks for your time,
Jason Golden
Strom Park HOA president


UPDATE 5/2/19

Due to the recent weather, seal coating on area 2 due was delayed one week and will take place on 5/9.


UPDATE 4/24/19

Concrete Asphalt Maintenance (CAM) will begin work on the walking trails today, Wednesday, April 24th.

Dates weather permitting:

4/24 - patch and pave

4/30 - 5/1 - Seal and curing area 1, respectively

5/2 - 5/3 - Seal and curing area 2, respectively

5/3 - all areas reopened at 4pm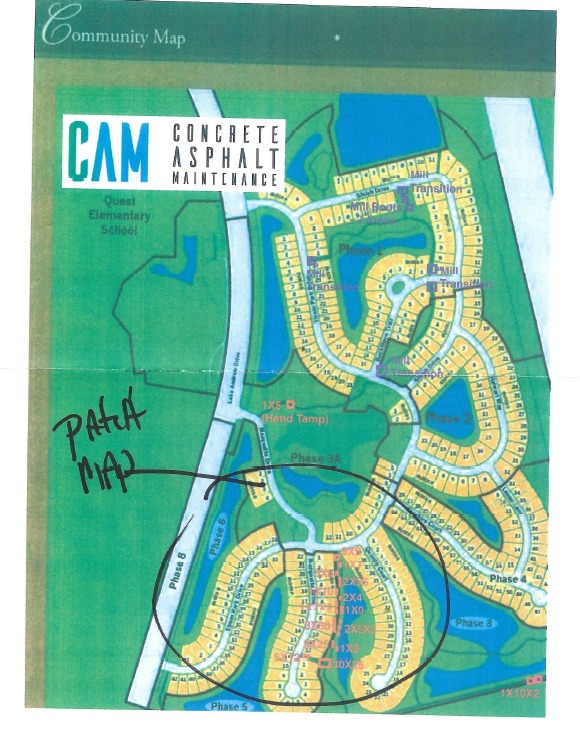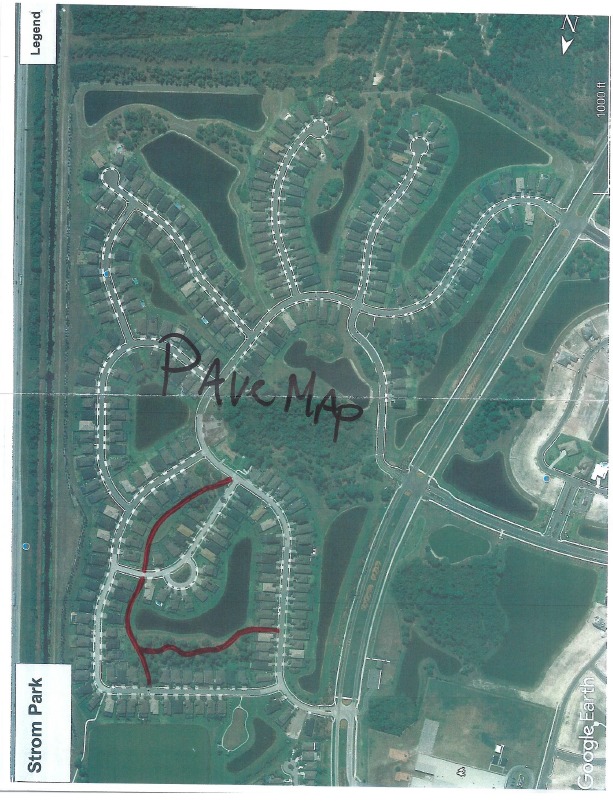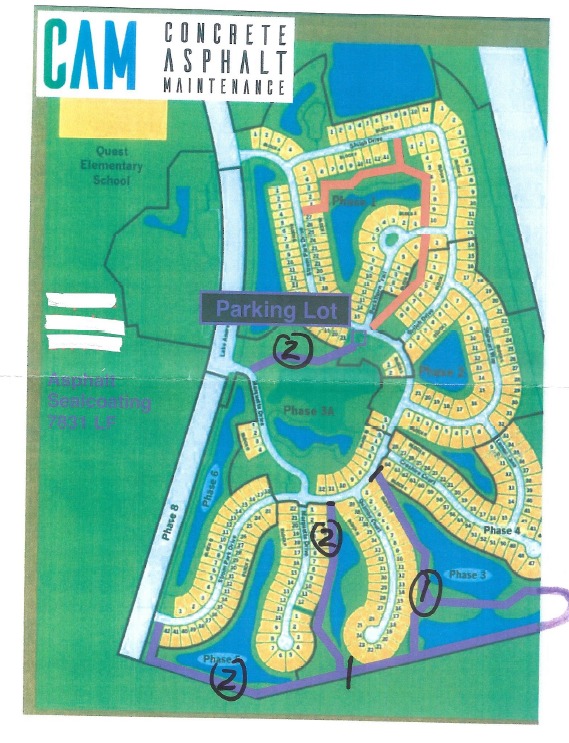 Semi-annual assessments were due on January 1, 2019.  Late fees were assessed starting February 1, 2019. If you have not received your statement or need a new statement please contact Leland Assessment and Billing at 407-781-1188 or email 

[email protected]

. To make a payment by credit card or eCheck go to the Homeowner Portal.

Strom Park is an exclusive community by Viera Builders featuring spacious homesites with waterfront and conservation views.  The neighborhood includes single story and two story single family homes designed to meet the personal needs of each homeowner!



Strom Park is complete with private parks as well as picnic and play areas. This neighborhood offers high quality, expertly designed and constructed homes; all while being centrally located to all Viera has to offer including The Avenue at Viera, Health First Hospital and walking distance to A-Rated Quest Elementary.